Jigoku Shoujo
Network
NTV
Number of episodes:
12
First episode:
Original airing:
November 4, 2006 - January 27, 2007
Opening:
Ending:
Genre:
Renzoku
description to be added
Synopsis
Somewhere in the vast sea of the Internet, there's a website that can only be accessed at the stroke of midnight. Known as the Jigoku Tsushin, rumor has it that if you post a grudge there, the Jigoku Shoujo will appear and drag whoever torments you into the inferno. Very little is known about the girl - all we know for sure is that she lives with her equally enigmatic grandmother, that three magical straw dolls accompany and serve her, and that whenever a posting on the Jigoku Tsushin moves her, she becomes the Jigoku Shoujo.
Cast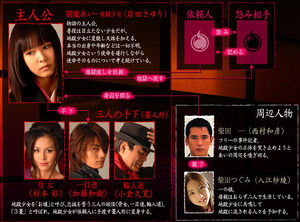 Crew
Episodes
Notes
External Links
References
Ad blocker interference detected!
Wikia is a free-to-use site that makes money from advertising. We have a modified experience for viewers using ad blockers

Wikia is not accessible if you've made further modifications. Remove the custom ad blocker rule(s) and the page will load as expected.