Kimi Hannin Janai yo ne? (キミ犯人じゃないよね?, Kimi Hannin Janai yo ne??), also known as Aren't You a Criminal?
Synopsis
Sakura Morita  is a peculiar "freeter" (freelance part-timer) who dreams of becoming a mystery novel writer. While switching between various jobs throughout the series, she also becomes an assistant to Officer Udagawa, a detective who discovers her excellent memory and reasoning skills. On the other hand, Udagawa (who has just joined the police ranks through his father's connections) is fairly inept and has a tendency to fall in love with female suspects. [1]
Cast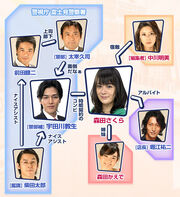 Guests
Criminals
Production Credits
Episodes
The woman of the double, locked-room mystery murder
The woman of the gorgeous becoming, complete crime
The woman of the graceful dying message
The woman who teleported the corpse
The woman who got attracted by the Venus
The woman who was the cursed bride
The women of the 3 sister kidnapping group
The woman with the psychic eye
The woman with the perfect alibi
The woman from the past
External Links
References
Ad blocker interference detected!
Wikia is a free-to-use site that makes money from advertising. We have a modified experience for viewers using ad blockers

Wikia is not accessible if you've made further modifications. Remove the custom ad blocker rule(s) and the page will load as expected.