Mop Girl (モップガール, Mop Girl?) is a Japanese mystery drama.
Synopsis
Kitagawa plays the part of the slow but hardworking Momoko, a low-ranking employee at a funeral services company who carries a mop as part of her job. However, Momoko happens to possess a strange ability. Whenever she comes across the corpse of someone who has left strong feelings behind, she travels back in time to save that person from his or her fate. --Tokyograph
Cast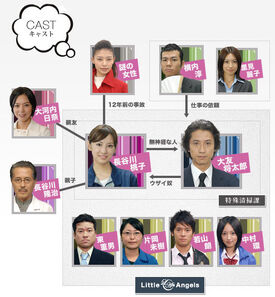 Guests
Production Credits
Original writing (manga): Mop Girl by Kato Miaki (加藤実秋)
Screenwriter: Mashiba Azuki (ep1&4), Arai Shuuko (荒井修子) (ep2-3,5-10)
Producer: Nakagawa Noriko (中川慎子), Kobe Akira (神戸明), Sato Yoshihiro (佐藤善宏)
Director: Katayama Osamu (ep1-2,5,7), Tsunehiro Jota (常廣丈太) (ep3-4,6,9-10), Ikebe Yasutoshi (池辺安智) (ep8)
Music: Yoshikawa Kei (吉川慶)
Episodes
Awards
External Links
Ad blocker interference detected!
Wikia is a free-to-use site that makes money from advertising. We have a modified experience for viewers using ad blockers

Wikia is not accessible if you've made further modifications. Remove the custom ad blocker rule(s) and the page will load as expected.