Otenki Oneesan
Network
TV Asahi
Number of episodes:
9
First episode:
Original airing:
April 12, 2013 - June 7, 2013
Opening:
Hesomagari by Kanjani8
Ending:
Genre:
Mystery
Otenki Oneesan (お天気お姉さん, Otenki Oneesan?) is a Japanese mystery drama which aired in 2013.
Synopsis
Abe Haruko is a genius meteorologist and presents the weather forecast for the TV morning show, 「MorningZ」. She is an anti-social, blunt person, thus earning her the nickname "The Low-Pressure Bomb". With her extensive knowledge about the weather, together with the easy-going detective, Aoki Gota and the Medical Examiner, Mikumo Sanpei, she takes up the challenge of solving crimes. by TV Asahi
Cast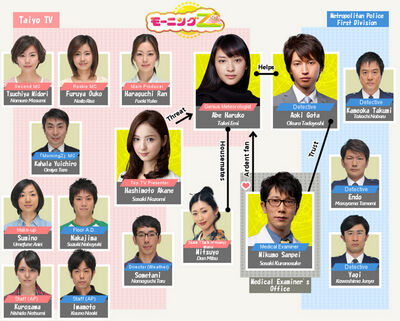 Production Credits
External Links
Ad blocker interference detected!
Wikia is a free-to-use site that makes money from advertising. We have a modified experience for viewers using ad blockers

Wikia is not accessible if you've made further modifications. Remove the custom ad blocker rule(s) and the page will load as expected.