Q10 is a Japanese drama about high school male student who fell in love with a female humanoid robot.
Synopsis
"Heita is an ordinary high school boy with a kind heart but no real interest in romance. His class is joined by a transfer student named Q10 (pronounced "kyu-to," the same as "cute"), who looks like a girl but is actually a robot. Together, the two end up causing trouble at school, and Heita even begins falling for Q10." [1]
Cast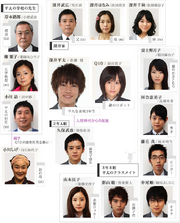 Crew
Episodes
External Links
References
Ad blocker interference detected!
Wikia is a free-to-use site that makes money from advertising. We have a modified experience for viewers using ad blockers

Wikia is not accessible if you've made further modifications. Remove the custom ad blocker rule(s) and the page will load as expected.