Sabadol
Network
TV Tokyo
Number of episodes:
12
First episode:
Original airing:
January 13, 2012 - April 7, 2012
Opening:
Ending:
Genre:
Sabadol (さばドル, Sabadoru?) is a Japanese drama revolving around a teacher who lives a secret life - as an idol.
Synopsis
The story revolves around the 38-year-old Shijimi Usa (Watanabe), who is a high school classical literature teacher. Her students are mean to her, but they don't realize that she has another identity. Outside school, she lies about her age to be active as the super popular 17-year-old idol Mayu Watanabe, whom the students adore. [1]
Cast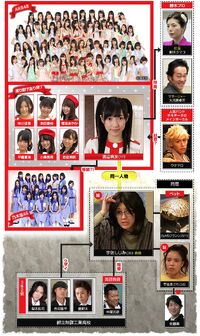 Episodes
Notes
External Links
References
Ad blocker interference detected!
Wikia is a free-to-use site that makes money from advertising. We have a modified experience for viewers using ad blockers

Wikia is not accessible if you've made further modifications. Remove the custom ad blocker rule(s) and the page will load as expected.