Sailor Zombie
Network
TV Tokyo
Number of episodes:
12
First episode:
Transfer Student
Original airing:
April 18, 2014 - ???
Opening:
Ending:
Genre:
Horror
Sailor Zombie (セーラーゾンビ, Sailor Zombie?) is a Japanese horror drama
Synopsis
Zombie vs High School Girls. Its been 2 months since zombies entered the world. In one girls high school, high school girls who survived the zombies live a surprisingly normal school life even in desperate situations. Even while being followed by a variety of accidents, Inui Maiko was greeted as a transfer student. She began and deepen friendships with Hyaku & Mutsumi, and gradually grew relationships with the other students. The story goes forward at a rapid deployment to the conclusion that no one expected.
Cast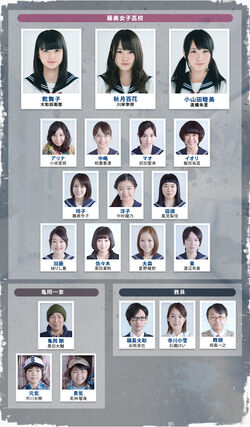 Additional Cast
Guest
Episodes
Production Credits
External Links
Ad blocker interference detected!
Wikia is a free-to-use site that makes money from advertising. We have a modified experience for viewers using ad blockers

Wikia is not accessible if you've made further modifications. Remove the custom ad blocker rule(s) and the page will load as expected.