Taira no Kiyomori
Network
NHK
Number of episodes:
50
First episode:
Original airing:
January 8, 2012 - December 23, 2012
Opening:
Ending:
Genre:
Taiga, Judaigeki
Taira no Kiyomori (平清盛, Taira no Kiyomori?) is the 51st NHK Taiga drama which recounts the life of Taira no Kiyomori (1118-1181), a general of the Heian period, who established the first samurai-based government in Japan.
Cast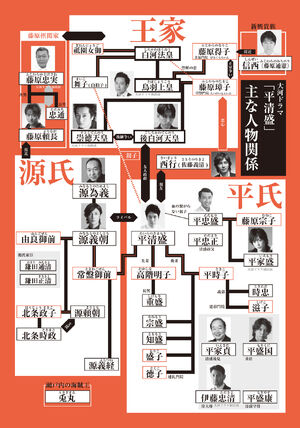 Kiyomori's rivals
Taira clan
Taira clan women
Imperial clan
Aristocrats
Minamoto clan
Others
Production Credits
External Links
References
Ad blocker interference detected!
Wikia is a free-to-use site that makes money from advertising. We have a modified experience for viewers using ad blockers

Wikia is not accessible if you've made further modifications. Remove the custom ad blocker rule(s) and the page will load as expected.