Taisetsu na Koto wa Subete Kimi ga Oshiete Kureta (大切なことはすべて君が教えてくれた, I Learned All the Important Things from You?), is a school drama involving a man who becomes involved with a young girl without knowing she will be one of his students as of the next day.
Synopsis
Toda and Miura play two teachers, Natsumi Uemura and Shuji Kashiwagi, at the same high school who are set to get married in half a year. However, the night before the school year's opening ceremony, Shuji becomes involved with the young Hikari Saeki (played by Takei), without realizing that she will be a student in his class starting the next day. As Shuji struggles to help Hikari deal with the mental complex she is suffering from, he is also torn inside by his betrayal of Natsumi. Meanwhile, Hikari attempts to get closer to Natsumi, driven by feelings of jealousy and a desire to destroy the couple's relationship. --Tokyograph
Cast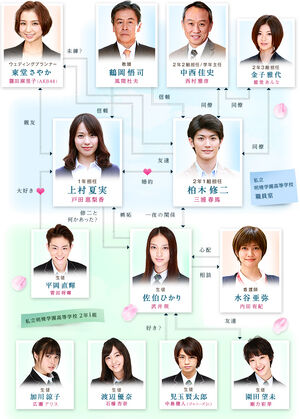 Others
Guests
Production Credits
Episodes
Recognition
68th Television Drama Academy Awards: Best Supporting Actress - Takei Emi
Notes
Episode 9, due to air on 14 March 2011, was pre-empted due to the Tōhoku earthquake and tsunami of 11 March 2011. As a result, this series finished a week later than originally planned.
External Links