Tsuki no Koibito
Network
Fuji TV
Number of episodes:
8
First episode:
I want you
Original airing:
May 10, 2010 - July 5, 2010
Opening:
LOVE RAIN ~ Koi no Ame ~ by Kubota Toshinobu
Ending:
Genre:
Romance
Tsuki no Koibito (月の恋人, Tsuki no Koibito?) is a Japanese drama.
Synopsis
Rensuke Hazuki, the President of Regolith, is determined to increase his company's market share in the house furnishing business. His life takes a different turn when three women enter the picture.

Cast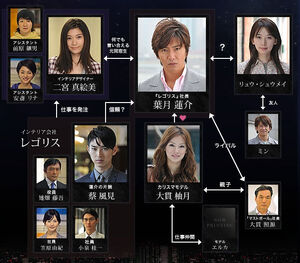 Crew
Episodes
Notes
External Links
References
Ad blocker interference detected!
Wikia is a free-to-use site that makes money from advertising. We have a modified experience for viewers using ad blockers

Wikia is not accessible if you've made further modifications. Remove the custom ad blocker rule(s) and the page will load as expected.